Description
Edit
Vitus is a Mage with rank of Master.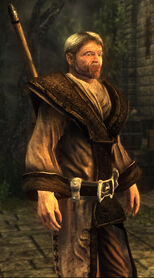 Training
Edit
Magic Bullets up to Lvl 10
Staff Fighting up to Lvl 7
Mana indefinetely.
Location
Edit
Volcano Keep: He can be found standing at the north-east end of the Monastery training ground.
Related Quests
Edit
Test of Master Vitus, Find Hemlar's Murderer, Wisdom in Combat Found!, Dalman Trusts you, Securing the Keep, Locate the Masters.
Ad blocker interference detected!
Wikia is a free-to-use site that makes money from advertising. We have a modified experience for viewers using ad blockers

Wikia is not accessible if you've made further modifications. Remove the custom ad blocker rule(s) and the page will load as expected.