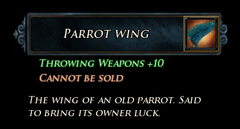 The wing of an old parrot. Said to bring its owner luck.
The Parrot's Wing is one of the Legendary Items in Risen 2: Dark Waters that yields:
+10 Throwing Weapons

Location
Edit
The artefact is located on The Isle of Thieves, in a treasure chest at the south-eastern exit of the Treasure Cave. In order to be able to dig up the chest, a Message in a Bottle must be first found at the southern beach. This is usually done during the quest A Way Out of the Cave.
For more details and map see the associated quest - The Treasure in the Cave.
Looting the item will complete the identically named quest which rewards the Nameless Hero with 200 Glory
A shovel is needed to dig up the treasure chest
The chest cannot be dug up without first finding the Message in a Bottle
Full guide showing the location of the map and the artefact:
See also
Edit