Nameless Hero
Talk

0
433pages on
this wiki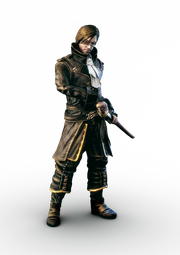 The protagonist of both Risen and Risen 2. With Titans on a rampage, the Nameless Hero bides his time drinking. As the situation becomes more dire, he decides to strike out and put an end to the monsters plaguing the land and sea.
Deep Silver describes him as follows:
You are a brave, self-confident warrior. Misunderstood by the world, yet prepared for any danger. You fled your native island of Gaurus some time ago, but fate intervened and your boat was devoured by the sea. It flushed you out onto a small island named Faranga, where you freed the inhabitants from the raging Fire Titans.
After the events on Faranga there was not much that you could do.
Alone, in a world without hope, you joined the Inquisition and fled the Titans with them.
You had every hope that you could evade the Titans.
However, with your armour and your weapons lying at the bottom of the ocean, you have failed to find any peace. You realise that you cannot shun your responsibilities.
You were the one who defeated the Titan on Faranga and it is you who must give the people fresh hope.
↑ http://www.risen2.com/characters/nameless-hero/, Risen 2 Official Site, 3/23/2012.