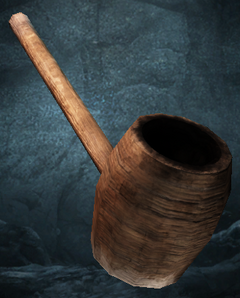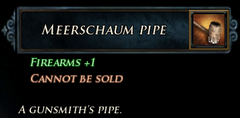 A gunsmith's pipe.
The Meerschaum Pipe is one of the Legendary Items in Risen 2: Dark Waters that yields:
+1 Firearms

Location
Edit
The artefact is located on Tacarigua:

To get this artefact you will have to find Pete's Treasure. Talk to Holly the prostitute inside Booze's tavern, and with the help of 100 gold she will tell you about the treasure. You will find Pete outside of a giant tomb, together with a red cross in front of it locating the treasure. The Shovel will be granted by the game, so you do not have to buy one yourself.
Full guide showing the location of the map and the artefact:
02:18

Risen 2 - How to find The Meerschaum Pipe Guide
Ad blocker interference detected!
Wikia is a free-to-use site that makes money from advertising. We have a modified experience for viewers using ad blockers

Wikia is not accessible if you've made further modifications. Remove the custom ad blocker rule(s) and the page will load as expected.