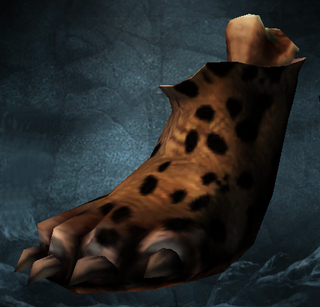 This is a record of the most wicked deeds and raids ever committed by pirates.
The Jaguar Paw is one of the Legendary Items in Risen 2: Dark Waters that yields:
+10 Ritual

The Jaguar Paw is obtained by completing the quest Chaka Datu's Legacy, given to you by Datu, leader of the Maracai Village natives. The Maracai Village is located in the southern mountainous jungles of lush Maracai Bay.
It is obtainable no matter which side the player chooses: Inquisition or Natives. However, it has a bonus that affects (Ritual +10); a talent within the Voodoo line of attributes. So, players on the side of the Inquisition need only do the quest-line of Chaka Datu's Legacy if wanting the experience and glory gained or are attempting to collect all of the Legendary Items.
Location
Edit
The artefact is located in Maracai Bay, Maracai Village:
Ad blocker interference detected!
Wikia is a free-to-use site that makes money from advertising. We have a modified experience for viewers using ad blockers

Wikia is not accessible if you've made further modifications. Remove the custom ad blocker rule(s) and the page will load as expected.